It is an honor for me to present to you my dear friend, Heike. I'm so proud of her. Not only for the things that we are writing about today, but for her spirit, her boundless creativity and generous nature.
Heike embraces life, motherhood, with pure goddess essence. She probably would not say so of herself, but if you read her writings, view her creations and spend a few minutes with her, you will love her.
I present to you, Heike Boehnke-Sharp
Where are you from?
I was born in Germany, and moved here about 12 years ago. My father was living in Sacramento, and I came to study law. As fate would have it, I married my boyfriend of 7 years, and was pregnant shortly thereafter.
As a child, what did you want to do when you grew up?
My first memory is that I wanted to be a veterinarian. Then as a teen, a clothes designer (I made the coolest clothes out of patches in the 80's era!). Then I floundered a bit, and decided that I wanted to move to New York and go to design school to be an interior designer. In the midst of planning this move, I had a car accident (which I talk about in my book, as it was life-changing.). Later, I decided I wanted to study law, and moved here.
When did you start the Goddess in the Groove website and Blog?
When my oldest, Justina, was born, it threw me into a whole new world! I began writing for an online magazine about Attachment Parenting with a twist, because I was working at the time (seems I was a unique entity in the AP world at that time!). The magazine began censoring some of my work. One evening, in 2000, while I was ranting to my husband about freedom of speech, I decided I wanted to have my own website where I could say what I want. The moment I made that decision, the name "Goddess in the Groove" popped into my head. It was registered that night. I began publishing my work there, and the work of other women with opinions.
I started the blog a few years ago. I wanted to have a place where people could communicate with me, and others; a community of sorts.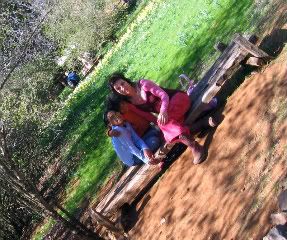 What does your family think of your artistic flair?
My kids have inherited the genes :). They love making things with me, going to fairs, and selling. I always say we would be happiest if we could travel the world with a gypsy caravan! My children have seen me work in corporate America also, so they know there are different worlds out there! My husband supports me completely, though he still thinks my art is a bit "strange" and hopes Oprah will discover me. My mother, and grandmother, is very proud of what I do, and they both understand the reason I am doing it. At random, they all say: "Have you ever thought of going back into sales???"
What books have most influenced your life most?
When I was growing up, I read a lot of Greek Myths. Children's books in Germany at that time were much "heavier" than what I see here now. I read classic literature early on because there was not much more to choose from! I have always loved mysteries: Hercule Poirot, Agatha Christie, and such. Now, when I am reading for leisure and not to study, I read books by Maya Angelou, Anne Rice, and historical novels. I just read Napoleon Hill's "Think and Grow Rich". The man was a genius, and his book makes me think about how I can direct my life.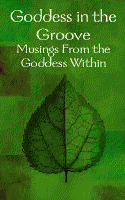 How did you come up with the title for your book?
I wanted to tie it in with my website, as many of the stories were published there originally. The book is not a novel, or memoirs of my life; the book is filled with short, thought provoking contemplations: Musings. Things that happen every day, and that happen to women around the world.
Who designed the cover?
A wonderful designer at the publishing company who lets the public use it. I just added some finishing touches and my title!
How does it feel to be a published author attending a book signing?
It is a very exhilarating feeling! I am so proud when someone tells me they relate to my stories, or that I made them think and take action! There is nothing better for an author or artist than to touch a life. The publication of my book is another step in the completion of a circle.
What is your next idea or goal for your book?
Definitely Oprah!!
With this book, I hope to reach women like me, who need to read that there are different approaches to life than what mainstream society leads you to believe is "perfect". I am sending it to midwives and women centers, because I feel this book is a resource both for new moms and women who are "rebirthing" themselves. The book, the website, and the Goddess Pendants are all pieces of a grand plan to one day open a real live women's center. A retreat for the mind, the soul, and the entrepreneur.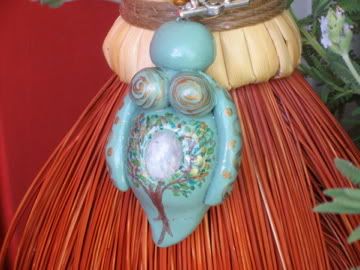 When did you create your first Goddess Pendant?
My first Goddess pendant was created 6 years ago. I had a dream and made her to guide me on my journey as a Goddess. She came to me when I found and immersed myself into the Goddess movement. My daughter was 4, and I had just given birth to my son. I needed divine support!
What gave you the idea?
A dream. I just made one and hung her on a cord around my neck. People began to approach me and ask "Is that a Goddess??" My first Goddess was so different than the ones I make now. She was much smaller, and one solid color. Unfortunately, I lost her. My Goddesses have gotten bigger, more colorful, and bolder over the years, just like me :). They actually come to me as they please, no two are ever the same, and I cannot mass produce. You can be assured that you will never see YOUR Goddess on anyone else.
Where can people go to purchase your book and your Goddess Pendants and other products?
Everything can be found on my website, http://goddessinthegroove.com. You can sign up for my newsletter, and be the first to know about sales, contests, etc. The book can also be purchased at most major online booksellers, such as Amazon.